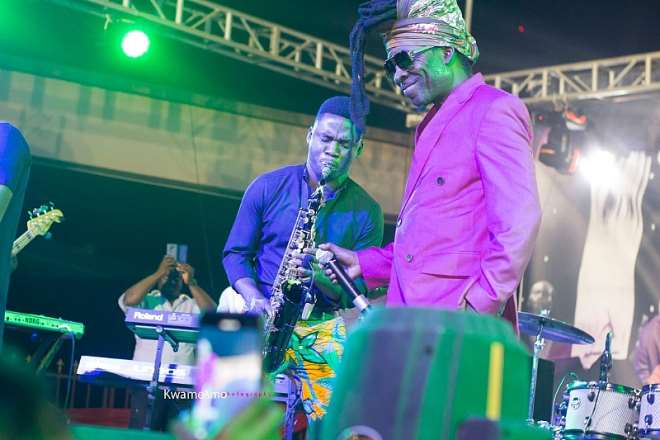 Ghanaian saxophonist Ekow Joe thrilled fans at Kojo Antwi annual concert in Accra and Kumasi this festive season. This soulful saxophonist won the heart of many as he joined the music band of the Maestro Kojo Antwi. His solo works was exceptional as he demonstrated what he truly is-A true Saxophonist.
Ekow is a self-taught saxophonist who started playing this instrument as a way to communicate his deepest feeling to people closer to him. 'Growing up, I used to be very quiet and shy in school. I used to be mocked by friends and the only way I felt to express my self was with the saxophone.'
Ekow used to listen to his Dad's old classics from the likes of Eric Allan Dolphy, John Coltrane and one of his heroes today, Erik Satie…
Music is the reason I started talking to people," he says. "When I started playing at events, I began to learn the behaviour of people. Music was the bait that helped me get something from them and give myself to them.
Back even when he was self-teaching himself to play the trumpet, He remember his Aunty telling him to just play it how he feels it. I couldn't do much so she bought me my first saxophone because I always wanted to feel what I'm playing. I didn't want lessons and theory: I went rogue and taught myself." Ekow says….
His distinctive saxophone play is being hailed as a breath of fresh air in the classical, jazz, Afro pop and soul industry. He has performed with renowned musicians not only Kojo Antwi but the likes of Gospel Singer Fred Hammond, UK Opera Singer Kofi Nino, Jazz Pianist Benito Gonzalez, Ghanaian Legend Agya Koo Nimo, Japanese Jazz Pianist Hitomi T'onoka, America's Jazz Drummer and lecturer Royal Hartigan and more.
Ekow Joe is regarded as the emerging "voice" of mainstream Jazz from Ghana